Necessary Preparations for Starting Your Own Online Business (Series 2)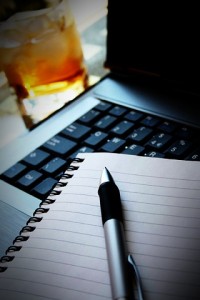 Finally, we're now on the second and last series of the article on necessary preparations for starting your own internet business. If you are new to this site and you are a Filipino(both living in the Philippines and abroad), I suggest you read 2 or 3 more articles from this website and I'm sure it will help you get started or at least inspire you to setup your own online business. Internet marketing will explode in the Philippines in the next 2 years or so. Take note of that!
I initially plan to make this a 3-series article but decided to give all the info here since I'll be busy with the holidays and will get some time "away" from the computer. Also, I would like you to work on all the items discussed here during the long Christmas break. BTW, Happy Holidays to everyone!
So, let's get started.
I assume you already have your Gmail account by now. Also, you should have secured at least 2 valid IDs last month which was the most "quiet" time of the year for most government offices. (Note: November is the best month to get IDs, papers, etc. from government offices – though that is in Davao but I think it represents the trend of other cities in the Philippines). Most of my clients found Philhealth, DFA(passport)and Postal Office the fastest way to get an ID.
If you don't have a bank account yet then its time to save that 13th month bonus or gifts from "ninongs and ninangs."  You MUST have a savings account even if you are not interested in setting up an online business.
The first 3 items are found in this link. Here's the next four of 7:
4. Valid Physical Address
5. Debit/Credit Card
6. Computer (Owned or Rented)
7. Paypal Account
Valid Physical/Mailing Address
You might be wondering why I included this on the list. Let me tell you MY story so you'll understand why: when I started my online business I used several physical/mailing addresses. It's not because I'm too rich to have many houses but my family don't own any house(I didn't came from a rich home) so some of my contact info is set on my aunt's address, another to a friend and the other to our local church. Checks, payments, notices, etc. from Paypal, online merchants, etc. were delivered in different addresses which is really a hassle. 
This might not be a problem to you but make sure you only use ONE physical address in all your correspondence relating to your online business. So, same address you'll use on your bank info, Paypal account, business info, etc. 
Using one address will also help you organize 🙂
Also, make sure that the address you use don't have any problems. Some addresses have problems receiving stuff – they just don't arrive(typical for the Post Office).
Debit/Credit Card
You need a debit/credit card to activate your Paypal account(more of this below). In the first series of this article, I mentioned about opening a bank account in Unionbank and the reason for that is you'll get a debit card with them. Unionbank's EON Card is like the usual ATM card but this can be used to purchase items online – works like an international debit/credit card. My EON card is shown below(numbers are blurred for obvious reasons): 
Of course, your EON card may not look like above since they change the design sporadically. Just make sure that when you visit any Unionbank branch that you ask them to give you an EON account. As of this writing, there is NO monthly maintaining balance for the EON account but you'll have to pay $7 (Php 350.00) annually.
You will be using this card only ONCE – that is to activate your Paypal account. Once it is activated, you may have the option to continue using your EON card to withdraw funds from Paypal or you may use other banks.
Any international credit card can also be used to validate your Paypal account. Try all your debit/credit cards first because they might work but if not EON is the best bet.
For Filipinos abroad, check with your local bank if their debit/credit cards support Paypal. As a general rule of thumb, Mastercard and Visa cards work with Paypal.
Again, you'll only use the card once then you have the option on what bank account to use.
NOTE: I opened accounts with BPI and BDO since they also have debit/credit cards. However, both doesn't work with Paypal with the exception of their international credit cards – that means higher monthly registration fee. You can definitely withdraw money though from your Paypal account to your BPI and/or BDO account among others.
Computer (Owned, Rented, Mac or PC)
I have two discussions in this item: "owned or rented" and "MAC/Linux or PC/Windows".
Owned or rented
You should have your OWN computer. However, if budget is tight this won't prevent you from starting your own online business. Having your own computer means your data is safe with you,  you can work anytime and you'll save more money long term.
When I started my online business I don't have a computer. My previous employer issued me a laptop so I bring the laptop at home(on which I'm authorized) to work on my online business. Sometimes I went to an internet cafe and work there.
Do NOT let technology stop you. Own a computer if you can but you can still work by renting a computer. Aim to invest for  a computer though – it is real worth investment.
MAC/Linux vs PC/Windows
Though MAC and Linux are two different operating systems I treat them as one in general since both of them are built from Unix and both don't get affected with any virus, spywares or adwares.
I've been in the computer industry for more than a decade and I used MAC, Linux and Windows. Each of them have strengths and weaknesses. Some techies will tell you that  OSes don't matter and its just a matter of preference. I beg to differ. One thing I really don't like on Windows is that it can caught a virus. There's an anti-virus, right? Yes, there are BUT still some can get through. I don't like fighting viruses especially in the middle of a project!
In my experience, 90% of Windows users who have anti-virus software installed in their computers were still hit by a virus. Slow apps, blue-screen-of-death and worst data loss. Oh no! What a terrible day!
Nonetheless, your operating system must be dictated on what application softwares you'll use. However, if possible, look for similar programs for MAC or Linux(which most are free) then stay away with Windows. 
I now use MAC and Linux exclusively. I still use Internet Explorer(a Windows program) for my web design business but that app is running on Wine(a Mac/Linux app where it allows Windows programs to run).
By the way, check the blog posts of my brother. I think its funny and MAC converts can really relate with their honeymoon days with their MAC, here's the links:
His thoughts BEFORE using a MAC 
His thoughts AFTER using a MAC
Needless to say, your computer, owned or rented, MAC or PC, must be connected to the internet. 🙂
Paypal Account 
Here's the core of this article and this is probably new to you. I should have created the 3rd series with only this item discussed since there's a lot to talk about this. Rather, I'll give you an overview of this program so you just can understand it and get started then I'll talk more about this in the future. Don't worry I'll give you the meat!
Paypal enables you to send and receive money. It can accept credit card payments online.
Paypal is a merchant account and a payment gateway in one. Don't worry about what online merchant account and payment gateway is since we don't have it in the Philippines yet. In the U.S. and other highly-developed countries, merchant account can be a different company with the payment gateway but for now let's focus on Paypal which has BOTH. 
Here's the general process of setting up Paypal in receiving payments in its basic form:
Setup a product in Paypal by setting the product title, description, price, etc, 
Paypal will generate an order link where you'll paste it in your web pages
Customer browse your products in your website and click the order link to buy
Customer will be taken to the Paypal page to pay for the item
Once payment has been approved, the amount will be credited to your account(immediately visible in your Account History page) and then you'll be notified via email that a sale had been made.
Deliver the goods/services.
You can check your balance online by logging in to your Paypal account. [Note: This is why you should have your OWN computer for security reasons and should avoid Windows since some virus/spyware can capture your login info]. 
There are 3 types of Paypal accounts:
Personal
Premier
Business
I'll only discuss the first two. If you think you'll have a total monthly sales of $10,000 then you NEED to get the Business account.
Personal Paypal account
Personal accounts are absolutely free but you are only allowed 5 credit/debit card transactions in a 12-month period. The transaction fee is about 5%. Sending and receiving money from a Paypal balance though remains free and without limit.
Premier Paypal account
Its free to open a Premier account or upgrade from a Personal account. You are also allowed virtually unlimited credit/debit card transactions. The transaction fee is about 3% which is half the fee of traditional merchant accounts.
For detailed figures, visit this link.
I would advise you get a Personal account AND a Premier account. Don't worry. You are allowed to have two accounts as long as one is a Personal account. You will be using two different cards for the two accounts though. So, if getting a credit/debit card is a hassle to you then first get the Premier account.

You can withdraw your Paypal funds to any participating bank if your account is activated/validated. Remember, the Unionbank and debit/credit card above? That is why its important to have those so you can withdraw your money to your bank.
To know more about Paypal visit www.Paypal.com and create an account now.
  
Whew! Finally, I already given the complete list. WHAT's NEXT? DO YOUR ASSIGNMENT! Once you have nailed all these then you are very close in earning your first few dollars online.
In the next articles, I'll be giving some ideas and tips on how to find a good and "responsive" market and how to promote your business.
Lastly, please let me know what you thought about our site – use the comments section below this article.  Also, subscribe to my RSS feed via email and  tell your friends about this site – they'll thank YOU for it.
Cheers and God bless you!
Comments