What you should know about RSS?
I already published an article about this topic. To know more, check out my article on RSS. However, I want to revisit it again, explain how this site uses RSS and how you can benefit from it. To illustrate it simply, here's a story:
I've been promoting this site(and my other online businesses as well) to almost everyone I know who is interested in earning money online. Some of those people checked out my site and found out revealing information about how to make money from the internet. Eventually, they kept coming back to my site to check for new articles. The problem is there is no definite day or time of the week that I publish articles. Sometimes I post twice or thrice a day or once in a week. Unlike the news on TV where you expect it to show by 6PM, my site publishes article every time I learned a strategy or just felt that people should know about.  Given that, people are frustrated to check again my site and see the same article. Worse than that, people not checking my site regularly and missed an article. (Note: all my articles are archived but some people failed to see the Archives link in the top naviagation bar). I committed to post at least once a week though and my "fans" awaits that!
So, how to solve the problem? Here's two answers I know:
1. Published content daily. 
How I wish I can cranked out article every day. Here's the problem: first, my wife and I don't have enough time – it's not our full time job and second, we are not an exceptional writer. Besides, my brain doesn't work all the time. I didn't say my mind is idle(or totally brain dead) but there are really times when you can easily and quickly pull out GREAT ideas – ideas that other people would love to know about. I believe this is true to any person too. So, this option is not for me. 
2. Use RSS. It stands for Really Simple Syndication.
Again, read my article about RSS to know more but here's how RSS solve my(and other people's) problem. If you subscribe to any RSS feed it will notify you(the subscriber) every time an article is published. No need of checking the site regularly for new content but just wait for the RSS aggregator to collect/download the article. So, in my case I setup an RSS feed where people can subscribe via email. It is found near the top right portion of this page and looks like below: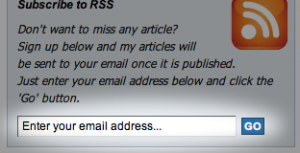 Once people use the form above, give their email address and hit 'Go' they'll be subscribe to my RSS feed and they'll be notified via email EVERY TIME I publish an article. I suggest you subscribe too to know how it works. Besides, I think you'll learn a lot from my article. You can UNsubsribe any time you want.
Setting up an RSS feed is not hard. WordPress(more about this on future articles), which empowers this site, generates the RSS feed automatically. You don't have to hire a programmer to do that. 
And, this is definitely the solution for me. 
If you know other solutions, please speak your mind by using the comments section below.
So, here's the tip for you: when you setup your site, make sure you have RSS feeds enabled so people can subscribe to your site and be notified every time you publish an article/news.
 
Cheers and God bless you!
Comments