Top 7 Reasons Why You Should Buy a Domain Name
Besides domain names(e.g. YourName.com) are not expensive, here are top 7 reasons why you should buy one: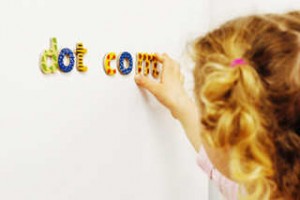 1. Professional look and Branding
I registered a domain name after my family name and my business name. I used those domain names on my calling cards and other contact info sheets. I'm esteem more highly when people see the domain name in my business cards. They get the impression that I'm serious with business. Moreover, my email address is consistent with my business name and I don't have to change it when I switch to a different ISP.
2. Unique Identity
No domain name can be identical – every one is unique. If you don't have a unique identity you will NOT stand out from the crowd. 
3. Establishes Credibility
Here's my story: I'm a musician and one day I went out to buy a new musical gear. Since its a bit expensive gear I went to TWO music stores to find out which offer a better deal. Both of them offered an equipment on which both price are very close but they carry different brands. So, I went home, grabbed my MacBook Pro and immediately checked both brands on the internet. Shockingly, I did not find a website on one of the product though the salesman was too convincing when he said that it was a better product than the one on the other store. Which do you think I bought? Your guess is right! The one which has a website – its own domain name.
4. Before others(competitors) steal it
Don't let other people steal the domain name related to your business and put tarnish on your identity. They'll also steal traffic from you. Here's an example: a famous wedding shop(call them Company A) in a city has NOT reserve a domain name for themselves. Another company(call them Company B) which is not known YET immediately reserved the domain name but it does not point to Company A but a website of Company B instead. Who then gets "free traffic?"
5. Cloaking affiliate links
If you are recommending other people's products such as items in Amazon, products from other sites with affiliate programs, etc. you usually set yourself as an affiliate of that product so you can get a portion of the sale. However, chances are you get a long affiliate URL and some people are smart enough to go directly to the site bypassing your affiliate link and eventually stripping off your affiliate commissions. If you have a domain name and redirect it to your affiliate link, you have completely cloak your affiliate URL, thus, giving you a piece of the pie on every sale.
6. Makes your business future-proof
Let's face it. The future of businesses will be all in the internet – every business will have their own website soon. If you don't get our own domain name you'll be left behind!
7. It is a BIG business itself
Selling domain names is a BIG business. Once you own a domain name, its yours "alone" and no one can take that away from you. I have a client who was offered $10,000 in exchange for a domain name he bought for only $10! You can also let other people "rent" your domain name.
Domain names are NOT expensive. They are only $10 a year – less than a $1 per month! If possible get the .COM and .ORG – and include those misspellings.
I exclusively buy domain names at www.UltraCheapSolutions.com – reserve your domain names NOW!
Cheers and God bless you!
Comments